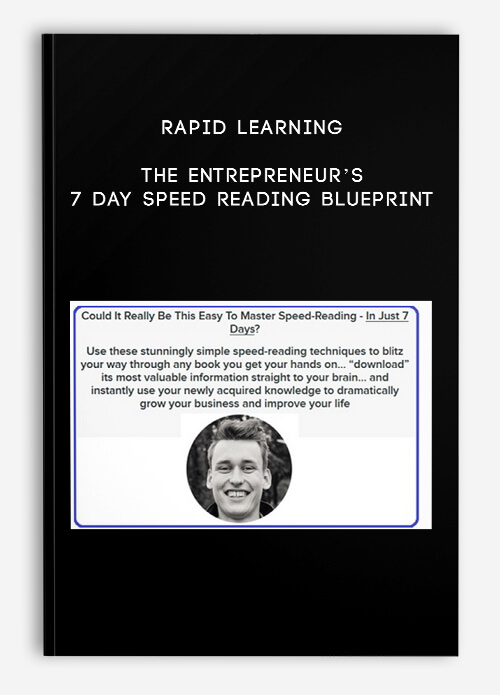 Rapid Learning: The Entrepreneur's 7 Day Speed Reading Blueprint
Description
Could It Really Be This Easy To Master Speed-Reading – In Just 7 Days?
Use these stunningly simple speed-reading techniques to blitz your way through any book you get your hands on… "download" its most valuable information straight to your brain. and instantly use your newly acquired knowledge to dramatically grow your business and improve your life
Introducing: The Entrepreneurs 7 Day Speed-Reading Blueprint
The 4-Part System For Reading And Memorizing A Book In 2-Hours Or Less
The Entrepreneurs 7 Day Speed-Reading Blueprint is a complete video training that teaches the exact 4-part system I use to read, memorize and utilize lessons from multiple books per day – and how to implement it into your own daily routine
This the same comprehensive reading system I use every day to evolve my business to higher and higher levels – the same reading system hundreds of successful entrepreneurs all over the world to master every aspect of their lives…
If your bookcase is stacked with 100 books youve always wanted to read that have been sitting there for years, then this system will teach you how you could finish all of them in 4 weeks instead of 4 years…
If youre struggling with everyday problems in your business and keep banging your head against the wall, this system will show you how to hunt for the best books that will help you overcome and move to the next level…
If youre barraged by a constant stream of information and are trying to hold on to dear life, then this program is going to teach you how to prioritize and manage your reading for maximum efficiency…
Program Details
The Entrepreneurs 7 Day Speed-Reading Blueprint is a series of 7 training modules taught by me.
Inside, youll learn my system, and I will also walk you through several practical exercises Ive created to make sure you implement what you learn immediately.
In other words, I wont just be teaching you, Ill be guiding through each and every step as you learn my speed-reading system and quickly move from novice to master.
Youll also find audio recordings of each module so you can listen to the course on the go, and PDF slides of each session, in case you learn better by reading, or need to quickly reference the training later.
Business online course
Information about business:
Business is the activity of making one's living or making money by producing or buying and selling products (such as goods and services).[need quotation to verify] Simply put, it is "any activity or enterprise entered into for profit.
It does not mean it is a company, a corporation, partnership, or have any such formal organization, but it can range from a street peddler to General Motors."
Having a business name does not separate the business entity from the owner, which means that the owner of the business is responsible and liable for debts incurred by the business.
If the business acquires debts, the creditors can go after the owner's personal possessions.
A business structure does not allow for corporate tax rates. The proprietor is personally taxed on all income from the business.
Get Rapid Learning: The Entrepreneur's 7 Day Speed Reading Blueprint with Digitdl.com