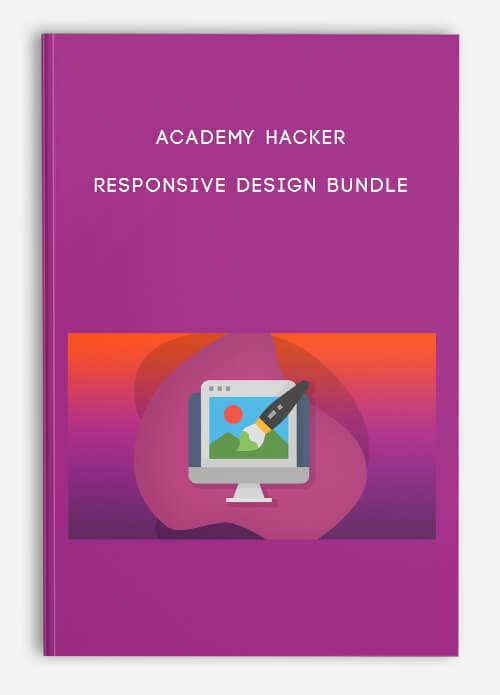 Responsive Design Bundle by Academy Hacker
Description
Over the last 2 decades designers have refined their websites and mobile apps as we understand more about user experience.
Now because of responsive design, a screen is a myriad of different devices. The nature of how we design is constantly changing as devices and screens evolve.
This bundle is designed to help you build responsive websites and products.
This exclusive bundle from Academy Hacker contains 27 courses and 117 hours of content.
You can launch a new career in web development by simply learning HTML and CSS. You don't need a university degree or any paid software, everything can be learned with free software and a few hours of your time

Whether you're a beginner or a seasoned web professional, creating responsive designs can be confusing at first, mostly because of the radical change in thinking that's required. As time goes on, responsive web design is drifting away from the pool of passing fads and rapidly entering the realm of standard practice. In fact, the magnitude of this paradigm shift feels as fundamental as the transition from table based layouts to CSS. Simply put, this is a very different way of designing websites and it represents the future.
The primary areas of study in responsive are HTML5 and CSS3.
The courses in this bundle are:
Create Flat Design Spaceships in Adobe Illustrator
HTML5 & CSS3 Site Design
Develop Responsive Websites with Bootstrap 3
Build a Responsive Website with a Modern Flat Design
Building Responsive Websites with Bootstrap 3 Framework
How To Quickly Get Started with Affinity Designer
Most Wanted Flat Design Techniques #1: Desert Island
How To Design A Fortune 500 Logo in Illustrator
Web design: How To Design a Website in Illustrator
Web Design Fundamentals in Illustrator
How to create flat design icons in 15 minutes in Illustrator
Web design : Make your photos look great in web design
Logo design: How To Design an Awesome Logo in Illustrator
Foundation 5 – Learn Responsive Design & Rapid Prototyping Start Now with Bootstrap 3
Flat Design Tutorial with Photoshop
Interactive Web Design with CSS Animation & Transition
HTML & CSS – Quickstart | Ebook included
Mastering Sketch: From Beginner to Advance User
Designing A Website in Photoshop, Illustrator (& GIMP)
Web Design Sales Secret – How To Sell 10+ Websites A Month
Build Responsive Real World Websites with CSS3 v2.0
Get a Job As a Frontend Web Developer: A Step-by-Step Guide
The Complete Course: 2017 JavaScript Essentials From Scratch
The Ultimate HTML Developer
The Complete Fullstack Web Developer Course
MATLAB App Designing: The ultimate Guide for MATLAB Apps
Create Apps in MATLAB with App Designer
Internet Marketing Course
Digital marketing is the component of marketing that utilizes internet and online based digital technologies such as desktop computers,
mobile phones and other digital media and platforms to promote products and services. Its development during the 1990s and 2000s,
changed the way brands and businesses use technology for marketing. As digital platforms became increasingly incorporated into marketing plans and everyday life,
and as people increasingly use digital devices instead of visiting physical shops, digital marketing campaigns have become prevalent,
employing combinations of search engine optimization (SEO), search engine marketing (SEM), content marketing, influencer marketing, content automation,
campaign marketing, data-driven marketing, e-commerce marketing, social media marketing, social media optimization, e-mail direct marketing, display advertising,
e–books, and optical disks and games have become commonplace. Digital marketing extends to non-Internet channels that provide digital media, such as television,
mobile phones (SMS and MMS), callback, and on-hold mobile ring tones. The extension to non-Internet channels differentiates digital marketing from online marketing.
Get Responsive Design Bundle by Academy Hacker with Digitdl.com