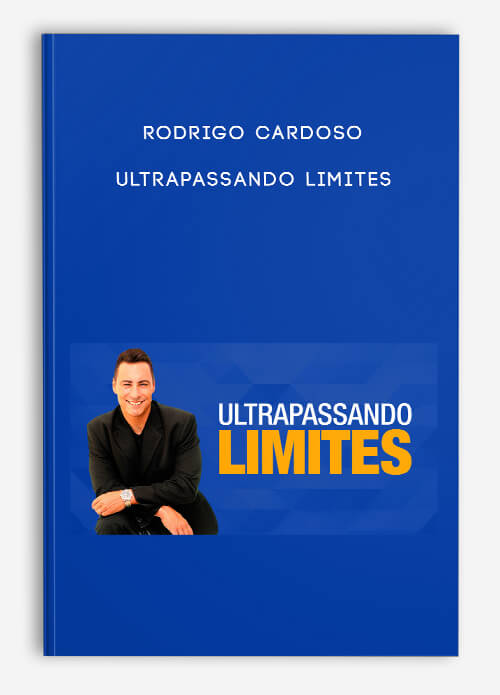 Rodrigo Cardoso – Ultrapassando Limites
Description
ARE YOU READY?
Do you feel frustrated to live by putting off what's important to you? Are you tired of working, working and not being recognized for it? Not having the financial return you expect?

Are your problems taking your sleep away? What keeps you from having energy and vitality? What prevents you from having prosperity?

How much would it cost you on your deathbed, in the last 5 minutes, to discover that you did not live the life of your dreams?

Imagine what your life would be like today if you were more productive, had more energy, your company was working alone, if you were in top physical shape, if money wasn't a problem, if you could close your eyes and sleep with certainty that life is working out.
Who is the event for?
If you are an entrepreneur or professional who is not getting the financial results you deserve …
If you are a financially successful entrepreneur, but don't have time to take care of yourself and live with the people you love the most …
If you want to overcome fears, such as public speaking, fear of death, fear of failure, fear of running out of money, among many others …
If you want to lose weight, have a healthy body, full of energy and live well …
If you want to be more productive and live the lifestyle of a Limit Ultrapassador, with a high level of energy, focus and action …
Exceeding Limits is for you!
AFTER EXCEEDING LIMITS, YOU WILL BE ABLE TO:
Escape the traps that trap you in a life of unhappiness, dissatisfaction and mediocrity;
Leave your greatest fears and insecurities behind and release the power of realization that is hidden within you;
Control your emotions and feelings and start using them to your advantage to improve your performance;
Find the way to your financial freedom;
Create an extraordinary vision of the future and design a new life for you and the people you love.
Meet your trainer
Rodrigo Cardoso
Voted Best Trainer in Brazil, Rodrigo Cardoso is a reference in high impact training. Masterfully leads the 2nd Largest FireWalk on the Planet and has reached the mark of more than 2 million people impacted in his 25 years of career as a speaker and trainer.
Writer of the best seller "Take Your Message to the World", which, even in its pre-launch, went to the list of best selling books of Veja magazine.
An engineer graduated from USP, Rodrigo Cardoso left engineering to understand human behavior. He graduated in Psychology and became a Master Practitioner in Neurolinguistic Programming.
He trained directly with the co-creator of NLP, Richard Bandler, and since 1997 he attends Tony Robbins' trainings, he has even been Leadership in one of his biggest events, Date With Destiny.
Today, the experiential event Exceeding Limits of Rodrigo Cardoso brings together thousands of people from Brazil and countries like Portugal, England, Japan, Ireland, Chile, Peru, Argentina, Africa and the USA, leading to transformation not only on Brazilian soil, but also for the world.
Lifestyle online course
More information about Lifestyle:
Lifestyle is the interests, opinions, behaviours, and behavioural orientations of an individual, group, or culture.
The term was introduced by Austrian psychologist Alfred Adler with the meaning of "a person's basic character as established early in childhood".
For example, in his 1929 book "The Case of Miss R.". The broader sense of lifestyle as a "way or style of living" has been documented since 1961.
Lifestyle is a combination of determining intangible or tangible factors.
Tangible factors relate specifically to demographic variables, i.e. an individual's demographic profile,
whereas intangible factors concern the psychological aspects of an individual such as personal values, preferences, and outlooks.
A rural environment has different lifestyles compared to an urban metropolis.
Location is important even within an urban scope.
The nature of the neighborhood in which a person resides affects the set of lifestyles available
to that person due to differences between various neighborhoods' degrees of affluence and proximity to natural and cultural environments.
For example, in areas near the sea, a surf culture or lifestyle can often be present.
Get Rodrigo Cardoso – Ultrapassando Limites with Digitdl.com