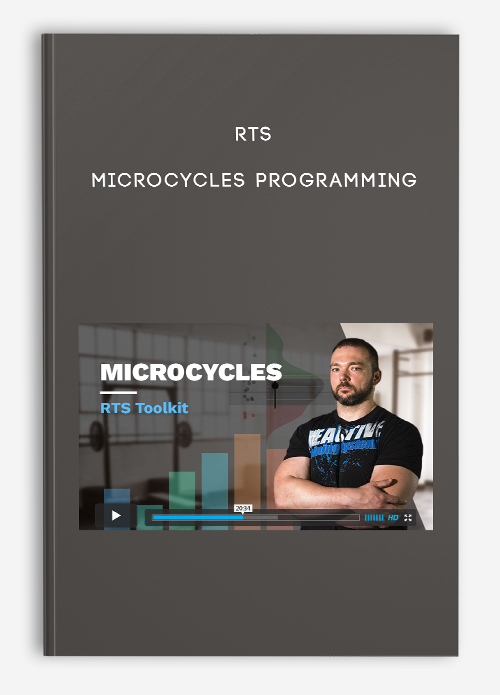 RTS – Microcycles Programming
Description
Filesize : 1.27 GB
Want to actually LEARN about strength and not just be told what to do?
Have questions about what's the best way to train?
We often tell lifters to become students of the sport — to learn all they can and get better at every aspect. RTS Classroom is designed to help you do that. Whether you're a coach, a trainer, or just a lifter who wants to get better at coaching yourself, joining RTS Classroom is going to make you so much better at the things you do.
This internet-based class is aimed at the coach who is interested in improving his skill at planning and coaching at the microcycle level. This is the recommended first level of RTS Classroom. In this course you will learn about training fundamentals. You'll learn about how to diagnose weaknesses and select proper exercises. You'll learn to construct customized templates and apply autoregulatory concepts to training. Even if you know nothing about higher levels of periodization, this course will improve your ability to write training, coach, and develop lifters.
The "Microcycles" class begins in January and June. It includes ten 30-minute lessons over the course of three months.
Classroom Basic includes ten lessons in three months. The lessons will be in the form of videos recorded for your class and distributed according to the RTS Calendar. It also includes discussion questions and interactions via a closed Facebook group.
Classroom Plus includes everything that you get with Classroom Basic, plus a 30 minute in-person group Q&A call for each lesson. If you cannot attend the call in person, a recording will be provided for you to watch at your convenience.
Lesson Plans:
–Background Knowledge–
Fundamental Training Principles pt1
Fundamental Training Principles pt2
–The Microcycle–
Exercise Selection pt1
Exercise Selection pt2
Exercise Selection pt3
Template design
RTS Toolkit
Advanced RTS Concepts pt1
Advanced RTS Concepts pt2
GPP Programming
Why should I subscribe? This information has been collected and sorted over careers. These presentations will not be available anywhere else online. And in some cases, the information may not be available anywhere else at all. This is probably the fastest way to accelerate your strength education and stay up to date on the latest thinking in strength training.Who are the classes for? The classes will be designed primarily for athletes who are writing their own training plans (self-coached) and for people coaching other athletes. But anyone who wants to learn more about strength training is welcome!
What features are included? When you subscribe, you'll get access to download all the videos that you're subscribed for so you can watch when/where you want. You'll also get:
Access to watch the exclusive RTS Classroom videos
Access to the closed RTS Classroom Facebook Group where you can discuss lessons, interact with others, and even complete homework assignments (assignments will be optional).
Access to a 30-minute in-person group Q&A call after each lesson. This is time for you to ask specific questions and follow up with your instructor. If you can't attend during the live times, then a recording of the Q&A call will be provided for you.
What can I expect when I buy? After your order is processed, you'll be sent a welcome package with further instructions. Your account will be given access to any videos you have permissions for so you can download them and also to the RTS Classroom Facebook Group. You can also choose to be notified by email when new downloads become available and when Q&A Calls are happening.
What can I expect to gain from this subscription? You'll get new content that is useful and exclusive. It's like attending a seminar twice each month, except in this format, coaches will be able to teach in more depth than they ever have before.
More depth than a seminar
More interactive than a book
More useful than an article
You won't find this density of quality information anywhere else.
RTS Classroom was designed to bridge the gap between theoretical knowledge and practical application. So expect to learn about various strength training theories, but also expect that the information will be immediately applicable!
Please note that this is a SUBSCRIPTION and you'll be enrolled in auto-pay. You can cancel the subscription at any time with an email or by using the Contact Us form on the home page.
Self Help – Self Help online course
More information about Self Help:
Self-help or self-improvement is a self-guided improvement—economically, intellectually, or emotionally—often with a substantial psychological basis.
Many different self-help group programs exist, each with its own focus, techniques, associated beliefs, proponents and in some cases, leaders.
Concepts and terms originating in self-help culture and Twelve-Step culture, such as recovery, dysfunctional families, and codependency have become firmly integrated in mainstream language.
Self-help often utilizes publicly available information or support groups, on the Internet as well as in person, where people in similar situations join together.
From early examples in self-driven legal practice and home-spun advice, the connotations of the word have spread and often apply particularly to education, business,
psychology and psychotherapy, commonly distributed through the popular genre of self-help books.
According to the APA Dictionary of Psychology, potential benefits of self-help groups that professionals may not be able to provide include friendship,
emotional support, experiential knowledge, identity, meaningful roles, and a sense of belonging.
Get RTS – Microcycles Programming with Digitdl.com