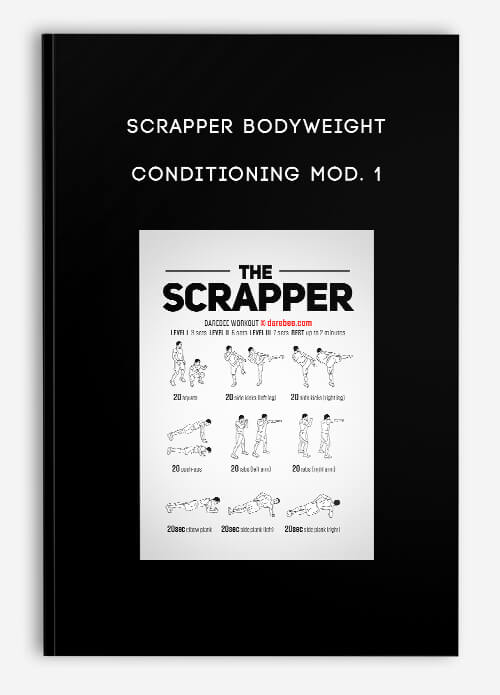 SCRAPPER Bodyweight Conditioning Mod. 1
Description
If you want solid results from a no nonsense trainer, then is the routine for you. While the cost may seem high, it more than pays for itself. I am a Marine, martial artist and a guy who is always on the go. I have tried many programs and this one works – in any clime and place.The creator quickly gets to the point and hits all the bases.Do yourself a favor -don't go out to dinner tonight and take the extra few dollars you save and BUY THIS PROGRAM. You'll be glad you did.
The Berkut, Camp Victory Iraq
Product Description
The Scrapper Bodyweight Mod. 1 Fitness Set is designed to enhance your body's ability to handle and perform large amounts of work. Every exercise used in these workouts was chosen for it's ability to build muscle, burn fat, strengthen your cardio-respiratory system, and develop hard-core levels of mental toughness.<br><br> The idea for the Mod. 1 came after many requests from customers who wanted to attend Scrapper's (Wayne Fisher) bodyweight conditioning classes, but didn't live in Hawaii. Listening to these CD's while you are working out is just like attending one of his classes. It is like having your own drill sargeant motivating you, setting the pace, and pushing you through the toughest workouts you never thought you could complete!<br><br> EXPECT THESE RESULTS<br><br> Reduction in Bodyfat <br> Increase in Lean Muscle Tissue >br> Increase in Cardio-Respiratory and CardioPulmonary Efficiency <br> Increase in Strength-Endurance <br> Decrease in recovery time between bouts of strenuous activity <br> Increase in Range of Motion of your joints and flexibility of your muscles<br><br><br> The Mod.
1 Set contains the following:<br><br> – 2 Audio CD's containing 7 GRUELING WORKOUTS – Round and Round, Creeping Death, PT for Convicts, Lunges and Squats, The Medley, and more<br> – 2-Hour DVD demonstrating the proper form and tempo of each exercise used in the workouts<br> – Reference guide with over 130 pictures demonstrating all exercises in each workout.
Fitness
More information about Fitness:
Regular exercise and physical activity promotes strong muscles and bones. It improves respiratory, cardiovascular health, and overall health.
Staying active can also help you maintain a healthy weight, reduce your risk for type 2 diabetes, heart disease, and reduce your risk for some cancers.
Moderate aerobics exercises 3 times a week for 30 minutes can reduce cancer risk Cancer-based exercises provide relief to the patient during
cancer treatment There are many benefits to exercising. But it's even more beneficial for cancer patients. This has been proven in research published in the medical journal 'Cancer Journal for Clinicians'.
Get SCRAPPER Bodyweight Conditioning Mod. 1 with Digitdl.com