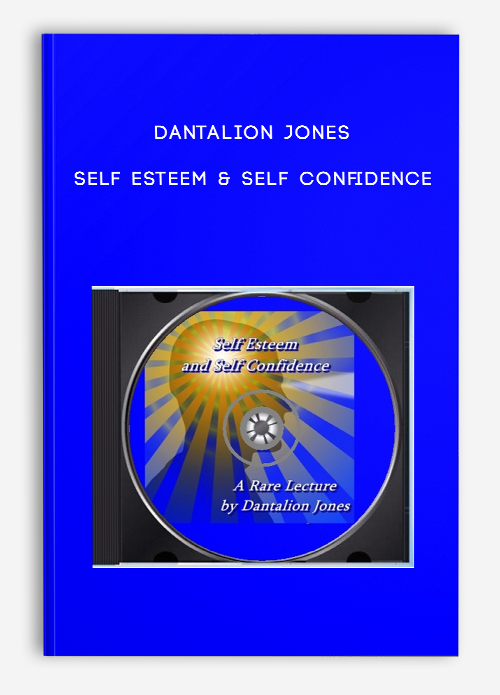 Self Esteem & Self Confidence by Dantalion Jones
Description
 DANTALION JONES – SELF ESTEEM & SELF CONFIDENCE
 [1 CD – 1 MP3, 1 PDF]
"Self Esteem & Self Confidence"
A Rare Live Lecture by Dantalion Jones
In spite of the fact that we often use the phrases "self esteem" and "self confidence"
interchangeably, they are distinctly different.
Yes, they each have an effect on the other but the question comes about as how to gain control over them and increase your self esteem and self confidence.
This CD  "Self Esteem and Self Confidence"  was recorded in front of a live audience so get the benefit hearing how positively people are effected by applying what they learn here.
When you combine self esteem and self confidence you create one of the most powerful mental states available.
A mental state that is held by the most powerful and effective people in the world.
Here is what you'll get when you listen to  "Self Esteem and Self Confidence" :
*  How defining "esteem" can make all the difference about how you feel about yourself.
*  Get the tools that you can (and should) use anywhere to intentionally feel better about yourself.
*  How to increase your confidence so that you will become willing to do whatever it takes to achieve your goals.
* How a seemingly simple process can increase your confidence and self esteem in the matter of minutes.
Self Help – Self Help online course
More information about Self Help:
Self-help or self-improvement is a self-guided improvement—economically, intellectually, or emotionally—often with a substantial psychological basis.
Many different self-help group programs exist, each with its own focus, techniques, associated beliefs, proponents and in some cases, leaders.
Concepts and terms originating in self-help culture and Twelve-Step culture, such as recovery, dysfunctional families, and codependency have become firmly integrated in mainstream language.
Self-help often utilizes publicly available information or support groups, on the Internet as well as in person, where people in similar situations join together.
From early examples in self-driven legal practice and home-spun advice, the connotations of the word have spread and often apply particularly to education, business,
psychology and psychotherapy, commonly distributed through the popular genre of self-help books.
According to the APA Dictionary of Psychology, potential benefits of self-help groups that professionals may not be able to provide include friendship,
emotional support, experiential knowledge, identity, meaningful roles, and a sense of belonging.
Get Self Esteem & Self Confidence by Dantalion Jones with Digitdl.com