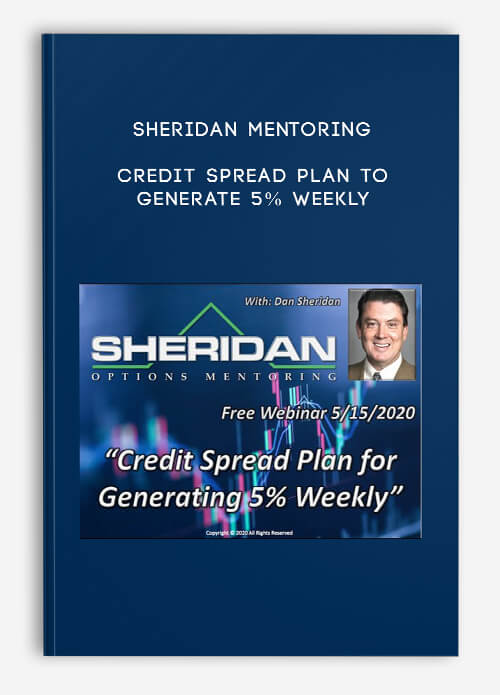 Sheridan Mentoring – Credit Spread Plan to Generate 5% Weekly
Description
Class Details
What you can expect to learn from our Online Classes: Credit Spread Plan To Generate 5% Weekly
Class Description: Dan Sheridan has been teaching Risk Management techniques for many years, that he learned in the Pits at the Chicago Board Options Exchange. Join our 4-week Live Teaching Class on "Credit Spread Plan To Generate 5% Weekly". Dan will tach risk management with practical implementation over the next month. Work with Dan every Tuesday and Thursday at 1pm CT as he places and manages live trades with you in the current Volatile Market.
Class Format: This is a 4 week live class. Once a student purchases a course, an email is then sent, containing login credentials to access the archived class page. Purchasing access to a class gives at least 6 months of access to all recordings, as well as trade updates, PDF's and PowerPoints.
Class Specifics:
Meets over 4 weeks on Tue and Thur at 1pm CT starting June 2nd.
Each Session will be around an hour in length.
Each event will be recorded and archive for your review.
Each event will have a PDF of presentation slides, if used.
You can email questions directly to Dan with your "Ask Dan a Question" button on your archive class page.
Forex Trading – Foreign Exchange Course
Want to learn about Forex?
Foreign exchange, or forex, is the conversion of one country's currency into another.
In a free economy, a country's currency is valued according to the laws of supply and demand.
In other words, a currency's value can be pegged to another country's currency, such as the U.S. dollar, or even to a basket of currencies.
A country's currency value may also be set by the country's government.
However, most countries float their currencies freely against those of other countries, which keeps them in constant fluctuation.
Get Sheridan Mentoring – Credit Spread Plan to Generate 5% Weekly with Digitdl.com