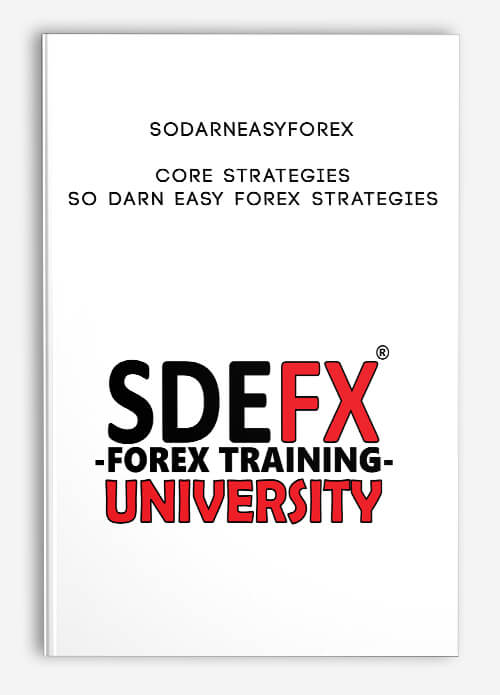 Sodarneasyforex – Core Strategies – So Darn Easy Forex Strategies
Description
The Perfect Entry Strategy
More than 95% of Forex traders who often lose in the market do so because they don't know when to enter the market or exit their trades. And many of the complicated entry systems and formulaic robots available on the internet hurt more than they help.
It's no wonder countless traders around the world are looking for a straightforward solution they can trust.
This simple and easy-to-apply entry strategy is revolutionizing the forex industry.
SDEFX™ University students love that this strategy allows them to quit gambling with entering the market at random times. Instead, they're entering the market with confidence and peace of mind.
And so can you.
All three of our memberships include access to The Perfect Entry Strategy
The Stay In Your Trades Strategy
Successful trading should enhance your life… not become your life. It should bring freedom… not consume your time.
That's why you deserve a trading strategy that doesn't require watching the charts all day, every day to succeed.
This strategy is the quickest and easiest way to determine when to stay in or exit your trades. Designed to pair with The Perfect Entry Strategy, this systematic approach is available to all SDEFX members, no matter their membership level.
Learn when to let your trade run and when to exit with The Stay In Your Trades Strategy
Forex Trading – Foreign Exchange Course
Want to learn about Forex?
Foreign exchange, or forex, is the conversion of one country's currency into another.
In a free economy, a country's currency is valued according to the laws of supply and demand.
In other words, a currency's value can be pegged to another country's currency, such as the U.S. dollar, or even to a basket of currencies.
A country's currency value may also be set by the country's government.
However, most countries float their currencies freely against those of other countries, which keeps them in constant fluctuation.
Get Sodarneasyforex – Core Strategies – So Darn Easy Forex Strategies with Digitdl.com