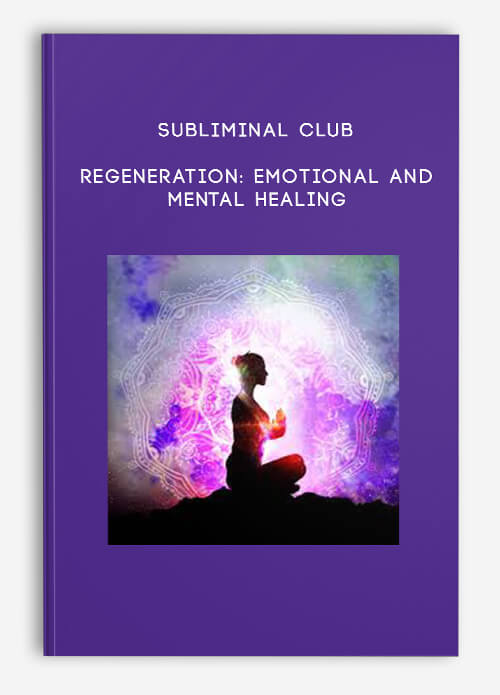 Subliminal Club – Regeneration: Emotional and Mental Healing
Description
The time for healing has begun. Regeneration, the first of its kind created in PrimalTech v2, will help you remove and heal all traumas and emotional vulnerabilities that you have. No more will you have to constantly work on healing yourself emotionally. You will regenerate your true, uninjured self.
The time for healing has begun.
Welcome the newest addition to Subliminal Club..
Regeneration.
The first of its kind created in PrimalTech v2, a revolutionary subliminal of emotional healing. Remove and heal all traumas and emotional vulnerabilities that you have. No more will you have to constantly work on healing yourself emotionally. You will regenerate your true, uninjured self.
No trauma will be able to hide itself from Regeneration; everything will be dug out and brought to surface. You will experience your trauma and face it, as the power of your past loses its hold over you. And if the trauma is too strong for you, it will gradually weaken and weaken until it either disappears by itself or you face it.
All the energy you have been using to support your trauma and negative beliefs will now be released and be able to flow freely in your life. Powerful healing awaits you, from every imaginable angle. You will feel your body relax as your negative beliefs leave you. You will experience in your mind an ease that you forgot. You will feel as if your spirit is finally unleashed.
Imagine what you could do, if you were the one to fully define yourself, and not events that were out of your control. Now you have the tool to get yourself in a place where everything is possible, a place where you can shape yourself in any direction you desire.
You will replace your pain and limiting beliefs with the foundations of a powerful man, using Regeneration, the first subliminal designed fully around healing you mentally, emotionally and spiritually.
It is time to let go of your past pains, of your past negative beliefs, of limitations stopping you from greatness. It is time to destroy what is holding you back, and experience complete Regeneration.
Are you ready to finally… heal?
Order now.
Included Modules:
The Standard Script (Over 45 submodules that push the power of the subliminal to cutting edge levels of subliminal technology)
Regeneration CORE I
Regeneration CORE II
Regeneration CORE III
The "Core" scripts contain the goal scripting and other submodules to boost results.
Limitless for Healing
The entire script of our ultimate speed learning subliminal. Over 15 submodules, including subconscious strategy modeling — even when you're not actively working on something, your mind is still learning.
Ascension LITE for Healing
Ascension LITE script, rewritten to assist with emotional healing
Think Like a Winner
Weakness Destroyer
Eliminate Procrastination
Eliminate Fear
Eliminate Doubt
Ultimate Gratitude
Godlike Masculinity
Rebirth
Extreme Independence
Extreme Will
Extreme Personal Power
Extreme Happiness
Extreme Confidence
Limitless Physical Energy
Rich, Deep Sleep
And More!
Health and Medical course
More information about Medical:
Medicine is the science and practice of establishing the diagnosis, prognosis, treatment, and prevention of disease.
Medicine encompasses a variety of health care practices evolved to maintain and restore health by the prevention and treatment of illness.
Contemporary medicine applies biomedical sciences, biomedical research, genetics, and medical technology to diagnose, treat, and prevent injury and disease,
typically through pharmaceuticals or surgery, but also through therapies as diverse as psychotherapy, external splints and traction, medical devices, biologics, and ionizing radiation, amongst others.
Medicine has been around for thousands of years, during most of which it was an art (an area of skill and knowledge) frequently having connections to the religious and
philosophical beliefs of local culture. For example, a medicine man would apply herbs and say prayers for healing, or an ancient philosopher and physician would apply bloodletting according to the theories of humorism.
In recent centuries, since the advent of modern science, most medicine has become a combination of art and science (both basic and applied, under the umbrella of medical science).
While stitching technique for sutures is an art learned through practice, the knowledge of what happens at the cellular and molecular level in the tissues being stitched arises through science.
Get Subliminal Club – Regeneration: Emotional and Mental Healing with Digitdl.com