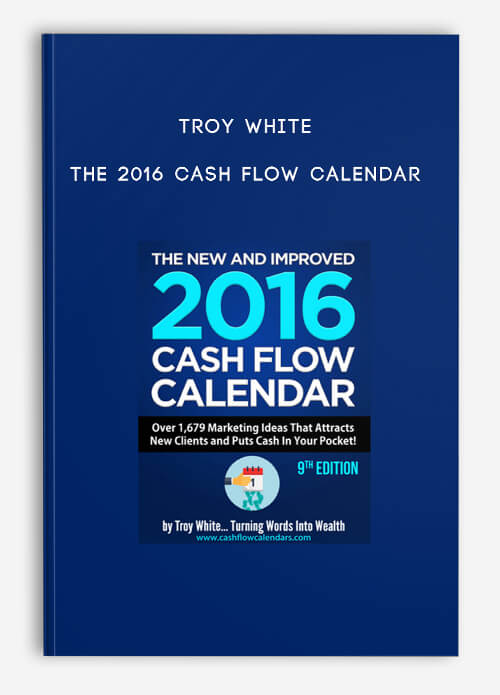 The 2016 Cash Flow Calendar by Troy White
Description
IDEAL for standing out in a cluttered marketplace, the 2016 Cash Flow Calendar has:
Your go-to resources for blog post ideas, social media updates, email promotions, and product or service launches…
Wacky and outrageous ideas for simplifying your marketing and making YOUR business the one they go to for fun promotions…
9 years in production, and the 2016 Cash Flow Calendar is BIGGER, BETTER, and FAR MORE PROFITABLE for you…
Consistent Marketing is The Most Profitable Kind…but what do you do when you are OUT OF IDEAS?
No matter what type of business you're in, or how long you've been in business, I guarantee you walk away from this with the tools that you can use immediately in your business, and can earn you an additional $5,000 in profits (that can be per month or per year, depending on how seriously you take this tool)…
Copy and paste promotional ideas for the entire year…
Social Media Friendly and Ready To Use…
Daily, weekly and monthly themes for your marketing campaigns…
Uniquely position yourself and your business as a 'fun' company…
Unusual ways to get your past clients back to buy again…
1,600+ promotional ideas included…
Be the FUN company that others look forward to hearing from…
Creates cash flow surges in your business…
Wacky templates for making an impact when you launch a new product or service…
1-2-3 formulas for maximizing the return you get on your marketing dollars…
The Creativity Connection Fast Track Guide to blockbuster ideas you can use…
Simple tools and ideas that get you the return you want (perfect for blogging, Twitter, Facebook, direct mail, email marketing, websites, press releases…)
Fellow Business Builder,
There's never been as many different ways you can grow a business as there is right now. Search engines, social media, paid ads, video ads, sales letters, video sales letters, print mail, email marketing, blogging… and that doesn't even scratch the surface!
With all those choices… few businesses seem to consistently grow…most just slug along and blame the economy, the government, or the customers.
So why is it that some business not only stay on top, but THRIVE in times like this, yet others sink to the bottom and become fish food?
The more often you are in touch with your customers and prospects, the more they buy, the more they tell their friends and associates, and the more your profits grow.
The more buying opportunities you present your customers with… the likelihood of them actually buying from you increases exponentially.
This simple marketing strategy applies to each and every type of business…
The best part: It has been designed to be incredibly easy and inexpensive for you to participate.
A new year is upon us and you have much loftier goals for revenues, profits, and much more balanced lifestyle. Having the luxury of a big fat bank account gives you the time to learn the skills I want you to learn.
How about if I hand you a 12 MONTH marketing plan
…and a number of pre-written letters you can send out right away
…ones that are prepared to go to work for you starting right now.
Business online course
Information about business:
Business is the activity of making one's living or making money by producing or buying and selling products (such as goods and services).[need quotation to verify] Simply put, it is "any activity or enterprise entered into for profit.
It does not mean it is a company, a corporation, partnership, or have any such formal organization, but it can range from a street peddler to General Motors."
Having a business name does not separate the business entity from the owner, which means that the owner of the business is responsible and liable for debts incurred by the business.
If the business acquires debts, the creditors can go after the owner's personal possessions.
A business structure does not allow for corporate tax rates. The proprietor is personally taxed on all income from the business.
Get The 2016 Cash Flow Calendar by Troy White with Digitdl.com