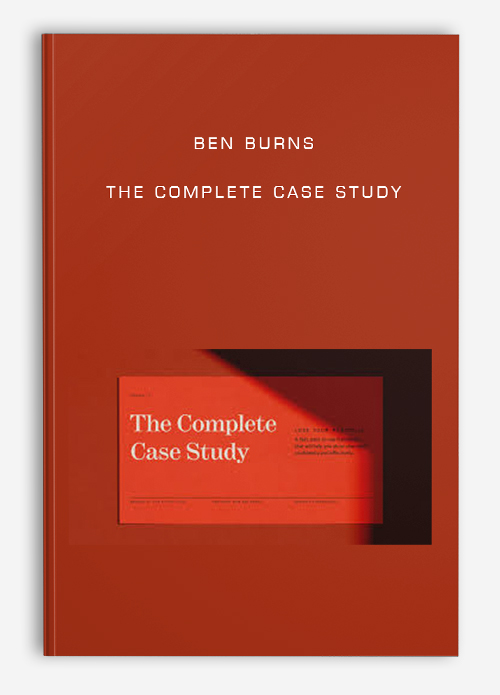 The Complete Case Study by Ben Burns
Description
Your work won't speak for itself. Feel confident about sharing your projects and process with this fast and easy-to-use framework.
80+ page guidebook
Client persona template
Job jacket template
Story worksheet
Bonus content
Lifetime updates
Good work just isn't enough.
You know that expression, "if you build it, they will come"? Well, that doesn't necessarily apply to your portfolio. When it comes to showing your work, the aesthetics just don't cut it.
‍
Clients want to see what you can do.
Sure, they can see the deliverables you submitted to previous clients, and yes, they look amazing, but they want to know how you got to that final design. They want to know your process.
‍
‍
This is where case studies shine.
Case studies are an excellent way to walk clients through your process, start to finish. They gain insight into your strategy and ways of thinking. They'll even be able to tell early on if you're the right match for their project.
‍
‍
The Complete Case Study
Stop wasting time on your portfolio.
Feel Confident
You'll be surprised at how much more excited you'll be to show your work—all the way through.
‍
Charge & Close More
When you demonstrate your process and impact, prospective clients will know you're the real deal.
‍
Get Clear Direction
Know where to start, how to prioritize information to create impactful case studies, and how to move forward.
Inside This Course
What's Included
Get tactical direction
The Complete Case Study guidebook gives you the clarity you need with recommendations for where to start, how to synthesize information, and how to craft compelling case studies.
Understand your clients
The one-page client user persona template helps you identify and speak directly to your ideal clients.
Find inspiration
The job jacket template helps you avoid writers block (staring at that blank screen) by collecting information early and accurately.
Tell your story vividly
A simple worksheet that will help you construct a solid narrative for your case study from beginning to end. No more boring copy!
Who this is for:
No matter where you're at in your career, great case studies will help you grow.
This toolkit was made for you to be proud of your portfolio, feel confident in sharing your process and results, and land bigger, better clients:
Students
Freelancers
Studio Owners
Creative Directors
Internet Marketing Course
Digital marketing is the component of marketing that utilizes internet and online based digital technologies such as desktop computers,
mobile phones and other digital media and platforms to promote products and services. Its development during the 1990s and 2000s,
changed the way brands and businesses use technology for marketing. As digital platforms became increasingly incorporated into marketing plans and everyday life,
and as people increasingly use digital devices instead of visiting physical shops, digital marketing campaigns have become prevalent,
employing combinations of search engine optimization (SEO), search engine marketing (SEM), content marketing, influencer marketing, content automation,
campaign marketing, data-driven marketing, e-commerce marketing, social media marketing, social media optimization, e-mail direct marketing, display advertising,
e–books, and optical disks and games have become commonplace. Digital marketing extends to non-Internet channels that provide digital media, such as television,
mobile phones (SMS and MMS), callback, and on-hold mobile ring tones. The extension to non-Internet channels differentiates digital marketing from online marketing.
Get The Complete Case Study by Ben Burns with Digitdl.com