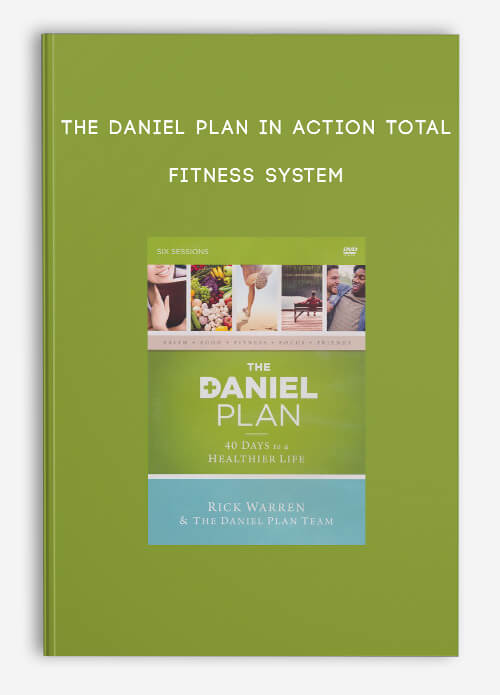 The Daniel Plan in Action Total Fitness System
Description
The Daniel Plan In Action is a 40-day fitness system with an innovative approach to creating a healthy lifestyle, rooted and framed by five life areas: faith, food, fitness, focus and friends. Three expert instructors lead the variety of inspiring workouts with a strong backbone of faith and community, complemented by a soundtrack of exclusive Christian music. This 4-session system focuses on an abundance of healthy choices offering you the encouragement and inspiration you need to succeed.
Set Features:
Quick Start Guide
Workout Calendar
Nutrition Guide
10-Day Detox
Journal
CD of Pastor Rick's Sermon "Winning With The Hand You're Dealt"
Three DVDs
Disc One – Introduction & "The Five Habits of Healthy People" sermon by Pastor Rick Warren
Disc Two – Total Cardio, Cardio Abs, Total Body: Upper, Total Body: Lower
Disc Three – Dynamic Stretch, Cardio + Upper, Cardio + Lower, Pilates Floor
DVD Features:
English, French, and Spanish Subtitles
Widescreen
Approx. 294 minutes
Product Information
Title: The Daniel Plan: In Action Accelerated, 3-DVD & CD Set
By: Rick Warren
Format: DVD
Vendor: Affirm Films
Publication Date: 2015
Weight: 1 pound 5 ounces
UPC: 043396445116
Series: Daniel Plan
Stock No: WW644511
Fitness
More information about Fitness:
Regular exercise and physical activity promotes strong muscles and bones. It improves respiratory, cardiovascular health, and overall health.
Staying active can also help you maintain a healthy weight, reduce your risk for type 2 diabetes, heart disease, and reduce your risk for some cancers.
Moderate aerobics exercises 3 times a week for 30 minutes can reduce cancer risk Cancer-based exercises provide relief to the patient during
cancer treatment There are many benefits to exercising. But it's even more beneficial for cancer patients. This has been proven in research published in the medical journal 'Cancer Journal for Clinicians'.
Get The Daniel Plan in Action Total Fitness System with Digitdl.com