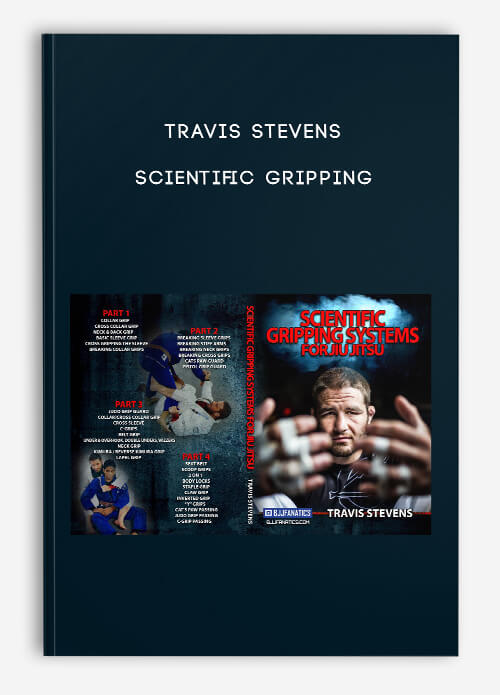 Travis Stevens – Scientific Gripping
Description
The Gripping Formula That Makes All The Difference No Matter Where You Start: By An Elite BJJ Blackbelt Who Is Also An Olympic Silver Medalist In Judo
Travis Stevens is an Olympic Judo Silver Medalist and World Class Brazilian Jiu Jitsu Black Belt
Travis is here to teach you the science of gripping
All to often we neglect the fundamentals of gripping and don't realize how imperative it is to know the function of a grip
Gain an entirely new perspective on grips
Transform your entire game
The Gripping Formula That Makes All The Difference No Matter Where You Start: By An Elite BJJ Blackbelt Who Is Also An Olympic Silver Medalist In Judo
Have you ever rolled with someone and wondered how they can have so much grip strength? It does not come from physical strength, it is accomplished by a scientific approach on how to grip, when to grip, and what to grip. Travis is here to teach you the science of gripping.
Cross Collar Grip
Grip fighting is where the fight begins. Typically when you see world class guys who are evenly matched, the differentiating factor is the grips. Who is able to achieve the most dominant grip, and who is able to maintain the best grips.
How often have you tried playing guard or standing and an experienced guy is able to solidify a grip and run around your legs or take you down? We're here to tell you that this is occurring not because your guard is bad or because their passing is good, it is because you lost the initial grip fight.
All to often we neglect the fundamentals of gripping and don't realize how imperative it is to know the function of a grip. Gripping is the single most important detail to every aspect of Jiu Jitsu, passing, guard, throws, takedowns, and even some submissions.
Travis Stevens is an Olympic Judo Silver Medalist, and world class Brazilian Jiu Jitsu black belt under John Danaher – one of the greatest instructors there is.
Have you ever had the opportunity to train with an Olympic Judoka? One of the main focal points of their training is grips. Grip fighting, grip strength, grip choice.
Travis has adapted this philosophy on the importance of grips into his Jiu Jitsu style and he is always able to one up his opponents in the first and most important fight: The Grip Fight.
Travis has a scientific approach on how to grip, when to grip, what to grip and why we grip. He is able to breakdown exactly what the best grips are from a standing position, from the guard, and while passing. So whether you are a guard passer, former wrestler, guard player, or all of the above, you will learn.
One of the most neglected aspects of gripping is being able to develop a gripping system. We assume that grips are par for the course with Jiu Jitsu and that they are part of techniques, not a technique in itself.
What we mean by this is that just like you have a passing system, guard system, or leg lock system you need to have a gripping system. We know, it's really difficult, that's why we're hear to save you some time.
Travis has done the work for you. Travis has spent years and years developing a high level gripping system and now is your opportunity to enhance your grips and learn his gripping system.
Travis knows that if he grabs a particular grip from guard, standing or passing, his opponent will react one of a few ways and when they do, this leads him to his next attack.
Cats Paw Grips
Cats Paw Grip
Here Travis is demonstrating the effectiveness of the cats paw grips or spider grips from the spider guard.
Same Side Collar Grip
Here Travis shows how to properly achieve and use the same side collar grip from a standing position
Pistol Grips
Here Travis shows how to effectively use the pistol grips while playing the De La Riva guard.
Get Travis Stevens – Scientific Gripping with Digitdl.com