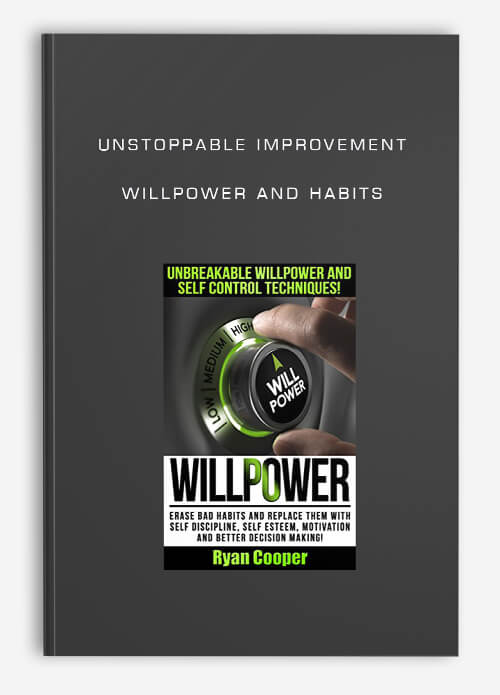 Unstoppable Improvement – Willpower and Habits
Description
achieve something monumental.
The most prolific and successful creative artists and entrepreneurs share one key trait: the ability to persevere to achieve their goals. To achieve something monumental, you have to work toward your goals, whether you feel like it or not, and that takes more than willpower. If you're ready to achieve your goals, join habit expert Maneesh Sethi for Unstoppable Improvement: Willpower and Habits.

Willpower is a limited resource that should be used sparingly. Instead, Maneesh will teach you how to quickly and effectively build new habits that lead to positive change. Along the way, you'll learn:
Why bad habits are actually harder to form than good ones
How to track your behavior and make incremental improvements
What it takes to craft a long-term, actionable plan for positive change and much more!
Whether you're hoping to write a book, start a business, lose weight, or simply make your day-to-day life more manageable, this is the one course that will make it all possible!
MANEESH SETHI
Maneesh ran the website Hack the System but noticed his productivity waning. After resorting to tricks to keep himself writing–notably hiring someone to slap him in the face whenever he used Facebook–Maneesh decided to build technology that improves productivity. Maneesh studied at Stanford University, has written four programming books (including an international bestseller), and has helped launch numerous New York Times bestsellers including The 4-Hour Chef by Tim Ferriss. He is the CEO and founder of Pavlok, the behavior training wristband that helps change your habits with an electric shock.
Self Help – Self Help online course
More information about Self Help:
Self-help or self-improvement is a self-guided improvement—economically, intellectually, or emotionally—often with a substantial psychological basis.
Many different self-help group programs exist, each with its own focus, techniques, associated beliefs, proponents and in some cases, leaders.
Concepts and terms originating in self-help culture and Twelve-Step culture, such as recovery, dysfunctional families, and codependency have become firmly integrated in mainstream language.
Self-help often utilizes publicly available information or support groups, on the Internet as well as in person, where people in similar situations join together.
From early examples in self-driven legal practice and home-spun advice, the connotations of the word have spread and often apply particularly to education, business,
psychology and psychotherapy, commonly distributed through the popular genre of self-help books.
According to the APA Dictionary of Psychology, potential benefits of self-help groups that professionals may not be able to provide include friendship,
emotional support, experiential knowledge, identity, meaningful roles, and a sense of belonging.
Get Unstoppable Improvement – Willpower and Habits with Digitdl.com