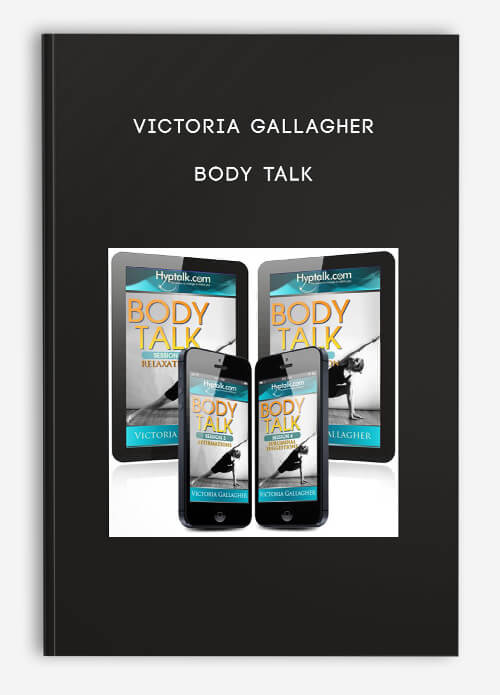 Victoria Gallagher – Body Talk
Description
Do you find yourself wanting to lose weight, only to keep returning to your old eating habits?
Have you found yourself close to your weight loss goal, but then you manage to start putting on the weight again?
Wouldn't you love to find a way to naturally and easily stay committed to losing weight and feeling great?
We all know that when you look your best, you can feel your best too.
Hypnosis is a proven way to help you change your eating habits, lose weight and achieve your weight loss goals.
Body Talk Hypnosis is a unique hypnosis CD which consists of Four Powerful Hypnotic Techniques to help you Lose Weight permanently.
The program is divided into 4 approximately 15-minute tracks, which you can play on their own or in any combination you like.
You can get the most benefit from the program when you listen to the Relaxation and Visualization together at night or first thing in the morning. The relaxation can guide you into the most tranquil state of calm and peace you've ever known. The visualization technique can help you to re-educate your subconscious mind while you are in a state of trance.
You want to listen to the Affirmation and Subliminal tracks, either right after the Visualization or any time at all. You can even listen to the Affirmations and Subliminal while doing any other activities, such as driving, working, sleeping, or getting a massage. You can find the Affirmations and Subliminal messages useful to help you reinforce positive attitude you create in hypnosis.
In hypnosis, you can direct the power of your own subconscious mind to bring about the weight loss you truly desire and deserve, while you deeply relax in a hypnotic of trance.
Now, take your first step toward losing weight by getting Body Talk Hypnosis today!
Hypnosis coures
Hypnosis is a human condition involving focused attention, reduced peripheral awareness, and an enhanced capacity to respond to suggestiom.
There are competing theories explaining hypnosis and related phenomena.
Altered state theories see hypnosis as an altered state of mind or trance, marked by a level of awareness different from the ordinary state of consciousness.
In contrast, nonstate theories see hypnosis as, variously, a type of placebo effect, a redefinition of an interaction with a therapist or form of imaginative role enactment.
During hypnosis, a person is said to have heightened focus and concentration.
Hypnotized subjects are said to show an increased response to suggestions.
Hypnosis usually begins with a hypnotic induction involving a series of preliminary instructions and suggestion.
The use of hypnotism for therapeutic purposes is referred to as "hypnotherapy", while its use as a form of entertainment for an audience is known as "stage hypnosis".
Stage hypnosis is often performed by mentalists practicing the art form of mentalism.
Get Victoria Gallagher – Body Talk with Digitdl.com