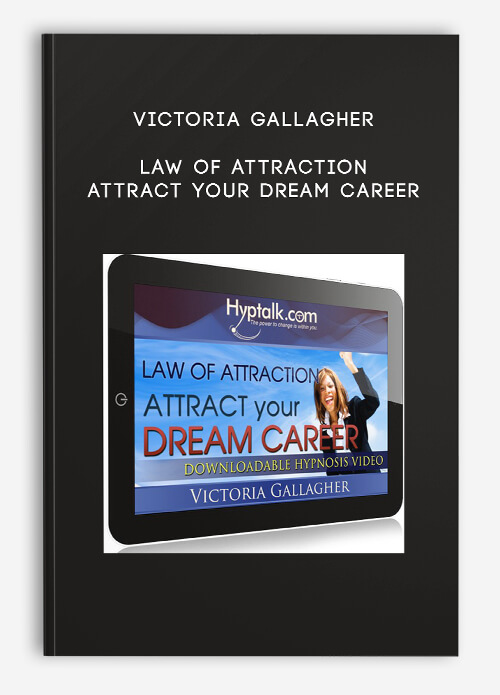 Victoria Gallagher – Law of Attraction – Attract Your Dream Career
Description
LAW OF ATTRACTION DEFINED:
"I Attract to My Life Whatever I Give My Attention, Energy, or Focus to."
HYPNOSIS DEFINED:
"The Bypassing of the Critical Factor thereby Increasing Suggestibility within the Subconscious Mind"
What do you get when you combine the forces of Hypnosis AND The Law of Attraction?
A powerful and revolutionary Visualization Tool for Law of Attraction!
Introducing the new "Hypno-Audio-Visual" Law of Attraction DVD Series – on Attracting Your Dream Career.
~A 23-minute Powerful Hypnosis Session lead by Victoria Gallagher
~Over 100 Whispered Hypnotic Affirmations
~Over 100 Moving Pictures and Videos
~Over 100 On Screen Hypnotic Affirmations
This Law of Attraction Hypnosis Downloadable MP4 on Attracting Your Dream Career helps you to get into a very powerful attracting state every day, by showing you visual images of success that are designed to make you feel good quadrupled with: Powerful Onscreen Affirmations, Underlying Hypnosis Audio, and Whispered Background Affirmations.
The process of the Law of Attraction is already working in your life.
As you watch this movie, let it help you to stimulate positive feelings toward Your Dream Career.
Just spend 23 minutes a day, fantasizing about your Dream Career and watch what happens.
You don't have to know how it works or understand it even to allow the powerful effects take place. Just feel good.
That is what the MP4 does is simply designed to do.
Hypnosis coures
Hypnosis is a human condition involving focused attention, reduced peripheral awareness, and an enhanced capacity to respond to suggestiom.
There are competing theories explaining hypnosis and related phenomena.
Altered state theories see hypnosis as an altered state of mind or trance, marked by a level of awareness different from the ordinary state of consciousness.
In contrast, nonstate theories see hypnosis as, variously, a type of placebo effect, a redefinition of an interaction with a therapist or form of imaginative role enactment.
During hypnosis, a person is said to have heightened focus and concentration.
Hypnotized subjects are said to show an increased response to suggestions.
Hypnosis usually begins with a hypnotic induction involving a series of preliminary instructions and suggestion.
The use of hypnotism for therapeutic purposes is referred to as "hypnotherapy", while its use as a form of entertainment for an audience is known as "stage hypnosis".
Stage hypnosis is often performed by mentalists practicing the art form of mentalism.
Get Victoria Gallagher – Law of Attraction – Attract Your Dream Career with Digitdl.com