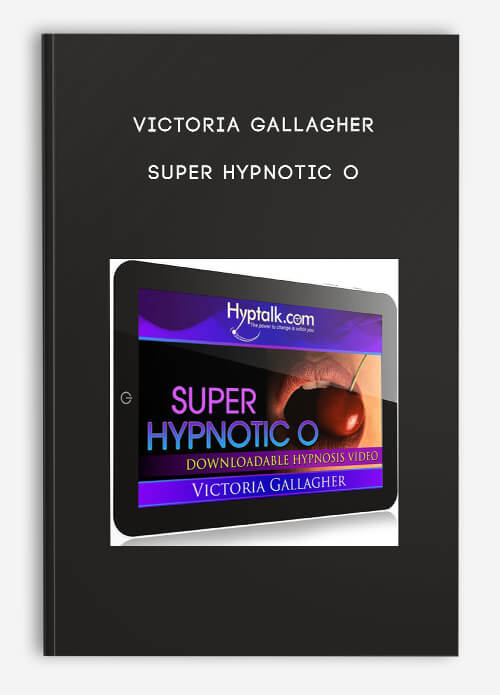 Victoria Gallagher – Super Hypnotic O
Description
Have you ever wondered about a wild orgasm that you can feel from deep inside your body and everywhere?
Imagine it from the tips of your toes, to the top of your head!
Would you like create this experience more and more each time you engage in a sexual encounter?
Your orgasm is redefining itself all the time. Imagine the most intense feeling you could possibly have in your body. Your mind already knows how to unlock this internal innate wisdom within your cells to allow this to happen.
Super Hypnotic O Downloadable MP4 is a powerful 28 minute Hypnosis audio program with Erotic imagery and additional visual suggestions embedded on the screen. Now you can watch TV and let yourself go into a hypnotic trance. Enjoy the power of suggestions given both visually and auditory.
The program includes about 5 minutes of an induction to get your mind and body very relaxed. Then, the playboy style images which are very classy, yet very sexually stimulating, progressively become more naughty toward the "climax" of the program just before "waking" suggestions are given. Suggestions are given for you to become a better lover, last longer, and have more intense climaxes. It may even happen while you are in trance. You never know just what can happen with this latest technique.
Use this program by yourself, or just prior to lovemaking and notice what happened to your sexual experiences. Just as suggested with our other hypnosis programs, it is recommended that you watch and listen to the program daily for a month for optimum results. The more your subconscious mind is exposed to the suggestions the more effect they may have on your body.
Hypnosis coures
Hypnosis is a human condition involving focused attention, reduced peripheral awareness, and an enhanced capacity to respond to suggestiom.
There are competing theories explaining hypnosis and related phenomena.
Altered state theories see hypnosis as an altered state of mind or trance, marked by a level of awareness different from the ordinary state of consciousness.
In contrast, nonstate theories see hypnosis as, variously, a type of placebo effect, a redefinition of an interaction with a therapist or form of imaginative role enactment.
During hypnosis, a person is said to have heightened focus and concentration.
Hypnotized subjects are said to show an increased response to suggestions.
Hypnosis usually begins with a hypnotic induction involving a series of preliminary instructions and suggestion.
The use of hypnotism for therapeutic purposes is referred to as "hypnotherapy", while its use as a form of entertainment for an audience is known as "stage hypnosis".
Stage hypnosis is often performed by mentalists practicing the art form of mentalism.
Get Victoria Gallagher – Super Hypnotic O with Digitdl.com