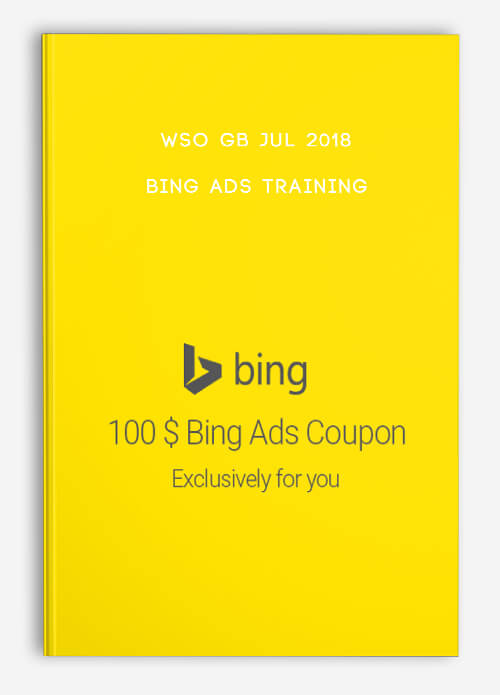 WSO GB Jul 2018 – Bing Ads Training
Description
What's the easiest way to ramp up a campaign? Emails. Now, this isn't the most appealing topic for many people, but you are seriously leaving so much money on the table if you are not building lists and sending emails.
This is free traffic that you are driving on demand.
Now, you have multiple options when it comes to setting up this sequence. Remember, that these are people you are communicating with, not mindless zombies you can constantly promote to and expect conversions (although many can be).
For niches that typically have smaller payouts and easier to convert (email/zip submits), you can set up a simple sequence that you do not need to dig too deep for.
Here are some example swipes you can work with. Please note that these are very generic, and you should modify them to match your specific audience.
Email 1
Headline: Are you looking for this?
Body:
Thank you for signing up to the [niche] newsletter. We are hereto help you and look forward to providing you with everything you need that has to do with [niche].
If you have not already, please fill out the following page if you want to receive your [whatever the offeris].[Your masked affiliate link]
Be on the lookout for my email tomorrow for more information on [niche]. Also, if you have any questions, feel free to ask me.
Regards,[Your name/company name]
Email 2
Headline: Did you do it yet?
Body:
Yesterday I showed you an offer that will help you so much with [niche]. Those who have already taken it up are going to be thrilled with it.
If you have yet to take up the offer, there is still time left to do so.
Here is why you'll want to take action now:[List benefit of offer][List benefit of offer][List benefit of offer][Your masked affiliate link] You will not regret it.
Regards,[Your name/company name]
Email 3
Headline: Ok, this is the last time
Body:
I just wanted to give you one last reminder for [name of your offer]. I highly recommend it, and Iencourage you toget in while you can.[Your masked affiliate link]
I understand that this may not be for everybody so here is another excellent offer that you may be interestedin.[Your masked affiliate link of different, but related offer]
As a matter of fact, you may even want to get in on both. Again, feel free to ask me any questions you mayhave. I will be back in touch with you soon.
Regards,[Your name/company name]
From experience, I have found that it is best to approach email campaigns with a deeper mindset to really
get inside the perspective of your audience. This is especially true for bigger niches with more competition and higher payouts. If you want to go this route, and I believe everybody eventually should, then I recommend you go through these videos from my Spark CPA: Social Traffic Edition course. There is deepinsight from my partner Eric about how to properly run CPA email campaigns. Truly valuable stuff.
Business online course
Information about business:
Business is the activity of making one's living or making money by producing or buying and selling products (such as goods and services).[need quotation to verify] Simply put, it is "any activity or enterprise entered into for profit.
It does not mean it is a company, a corporation, partnership, or have any such formal organization, but it can range from a street peddler to General Motors."
Having a business name does not separate the business entity from the owner, which means that the owner of the business is responsible and liable for debts incurred by the business.
If the business acquires debts, the creditors can go after the owner's personal possessions.
A business structure does not allow for corporate tax rates. The proprietor is personally taxed on all income from the business.
Get WSO GB Jul 2018 – Bing Ads Training with Digitdl.com