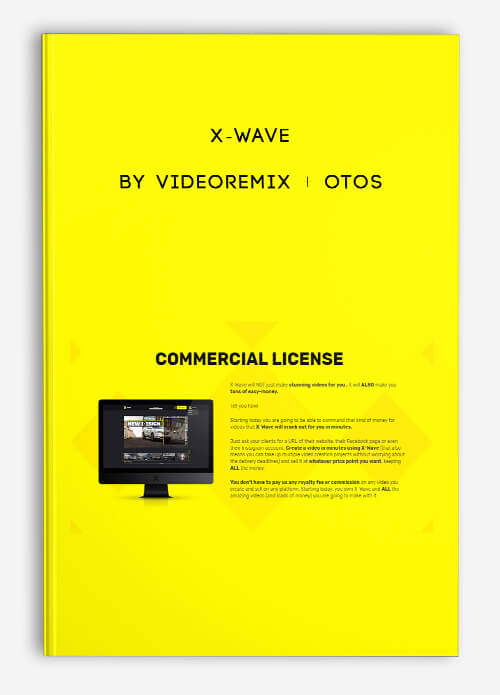 X-Wave by VideoRemix + OTOs
AI video creation assistant,
No design experience needed,
10 hot real estate templates,
Unlimited preview renders,
100+ music tracks,
3 day training event,
10 hot general templates,
20 HD publishes per month.
The Next Generation AI Video Marketing Software that is guaranteed to make your customers MORE MONEY in 3 easy steps:
Step 1 – Add the URL: Drop any URL inside X-Wave by Video Remix and the Videoremix A.I. instantly sets into action mode harvesting all the images from the given URL,
Step 2 – Select image and text: Select from our plethora of professionally designed templates, identify which images you want in your video and edit any text to your liking,
Step 3 – Hit render: Sit back and watch your VideoRemix AI designed video render in seconds.
Benefits of using this:
AI video creation, High rendering speed, Professionally designed templates, Social media integration, Direct photo upload.
Let me show you what is inside the X-Wave by Video Remix:
Artificial Intelligence Powered Video Creation: Nothing creates videos faster and better than Videoremix's AI. Videos drive far more traffic on Facebook (around 59.3%) compared to images (around 29.6%), [According to databox]. So why not transform your existing images on Facebook and Instagram into stunning videos with X-Wave by Video Remix? Or you can instantly create stunning promotional videos from ANY URL,
High Rendering Speed: You created a video but if you now have to wait hours to actually use it that defeats the purpose. Nothing is more frustrating for a video marketer than seeing the "rendering" sign going endlessly clockwise. We have kept that in mind and made sure that, within less than 1 minute you can render high resolution videos,
Smooth Video Transitions: Want to convey a particular mood, jump between storylines, switch to another point of view, spice up the narrative or move backward or forward in time with your new video? X-Wave by Video Remix adds unique transitions to make your videos look terrific and engaging,
Professionally Designed Templates: Your X-Wave by Video Remix account is loaded with 20 Premium Templates. 10 of these templates target the Real Estate niche and the other 10 can be used to create videos in whatever niche you may choose. These templates are created by a team of very talented designers and marketers who have complete sense of what's working and what's not working in the market today. Each template if sold on a platform like Fiverr would easily fetch $250. Yes, these are that good,
Project Folders: With X-Wave by Video Remix you'd be running a full-blown Video Creation & Marketing Agency very soon, whether that was your plan or not – seeing the kind of money your customers would be eager to pay you for a video might change your resolve to just 'stick to your business'. And handling multiple projects for your clients' or even for your business can be quite a stress. X-Wave by Video Remix lets you neatly save your videos inside different project folders. Next time you need a video that you made a couple of weeks back, no need to scroll through an endless list trying to locate it. Just another time-saver,
Social Media Publishing, Direct photo upload, Built-In Music Library.
Here's what going to happen (automated) as soon as this special introductory offer ENDS:
The prices will increase,
You will no longer be able to access our exclusive launch bonuses,
You'll have to either upgrade your X-Wave by Video Remix account or pay $197 extra to secure a Commercial License,
The one-time fee will be replaced by monthly/yearly recurring model,
You won't get access to our 3-Day Live Training Event By 7-Figure Marketers.
Front End Options:
Non-Commercial License: No rights to resell videos, AI assistant, 100 music tracks, Music upload, Photo uploads, 10 real estate templates, 10 premium generic templates, 3-day live training, Customer support, Download your videos, 30 day money back guarantee,
Commercial License: All Non-Commercial License PLUS Rights to sell X-Wave by Video Remix videos to clients.
Get X-Wave by VideoRemix + OTOs with Digitdl.com