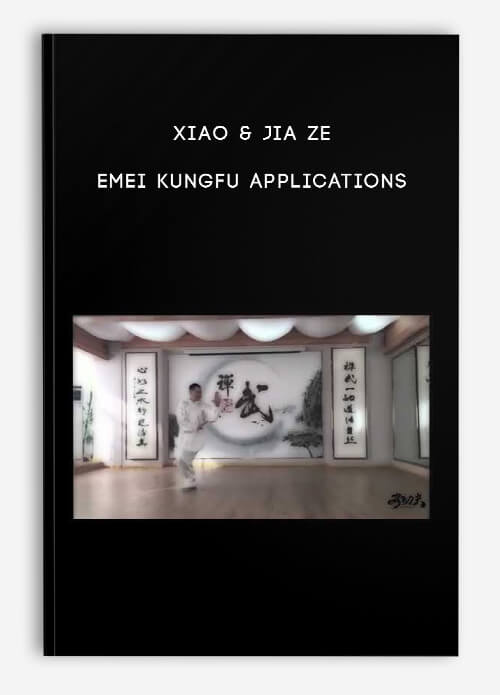 Xiao & Jia Ze – Emei Kungfu Applications
Description
Emei Kungfu Applications Series
by Yang, Dong Lin/ Xiao Jia Ze/ Wu, Xin Liang
About the performer: Dong Lin Yang was the student of grand Emei master Deng Hai./ Xin Liang Wu is an instructor of Si Chuan Wushu San Da Association/ Jia Ze Xiao is a major inheritor of Emei Rock Eagle Fist Sec.

Emei Kungfu Applications (5)
Lightning Step & Kicking (1)

Item Code: EM030
Item Code: EM031

by Xiao, Jia Ze
by Yang, Dong Lin

Emei Sanshou contains hit, throw, & grab. Kicking contains grabbing & hitting; Garbbing contains throwing. Natural & free. Each form intents to defeat opponents. This program also contains demonstration of Rock Eagle Fist, Emei Sword, & 7 Step Broadsword. As its name, its unique, light, agile footwork associating with light & soft body methods shows the practical usage of Emei kungfu. Fierce forms. Hard to defend. Offence contains defense; Defense contains offence.
Lightning Hand & Pi Da Methods (1)
Practical Emei San Da (3)

Item Code: EM032
Item Code: EM033

by Yang, Dong Lin
by Wu, Xin Liang

This unique hand methods associating with agile & light footwork to present the practical usage of Emei hand methods. Each form can defeat opponent in one bow. Mind & hand, forces & body are in consistence. Its characteristics can be fully realized in combat.
Emei San Da summarized the essential skills of Emei ChinNa, Grab, Throw & Twist. Its unique attacking methods & counter-attack methods associating with flexiable usage of body forms, hand skills, footwork, & force issuance methods. You can feel the strength of Emei kugnfu.
Get Xiao & Jia Ze – Emei Kungfu Applications with Digitdl.com